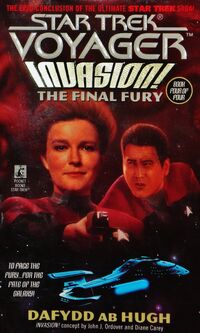 Star Trek: Invasion!: The Final Fury
Dafydd ab Hugh
1996, Pocket Books, New York
0671541811
283p.
The fourth and final instalment of the
Invasion!
series, set aboard the
USS Voyager
in the Delta quadrant.
Voyager
receives a Starfleet distress call from the crippled shuttle flown through the wormhole by Lt. Redbay at the end of the second book,
The Soldiers of Fear
. When they investigate, they discover the terrifying homeworld of the Furies - a race of demonic beings which enslaved the Alpha quadrant millennia ago.
The first third of this book was a bit disjointed - and it's filled with annoying metaphors, such as page 64: "Kim was giddy, swaying in his seat; he grimly clung on consciousness
as if it were a clarinet that some was trying to yank from his hand
." Also, the internal monologues of the characters (how they are feeling, et cetera) is distracting.
Despite all that, it's a fantastic read! Ab Hugh always writes great banter between the characters, and this case is no exception. I also adore all the 'real world'
Star Trek
references in his novels (like Paris and the 'Starburst manoeuvre'). The science/technology side to this story is solid and interesting.
Overall, the series was very well written. By far the best
Trek
series that I have read.
Link to journal at bookcrossing